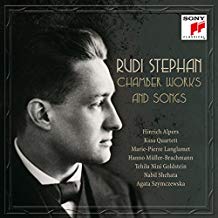 Rudi Stephan – Chamber Music and Songs (2 CDs, SONY)
awarded with an "OPUS Klassik" 2018!
When Rudi Stephan (1887 – 1915) tragically died in the midst of the Great War, only 28 years of age, music history lost one of its most promising young aspirants of the beginning 20th century. Hinrich Alpers has been an avid lover of this fascinating music since he was a teenager. Stephan's small surviving ouvre, walking a thin line between late romanticism, early modernism and impressionism can be considered most impressive for a German composer at the turn of the century.
The Kuss Quartett, Hanno Müller-Brachmann (baritone), Tehila Nini Goldstein (soprano), Nabil Shehata (double bass), Marie-Pierre Langlamet (harp) and Agata Szymczewska (violin) have enthusiastically joined forces with Hinrich Alpers for this recording which has been awarded with one of the first "OPUS Klassik" prizes of 2018.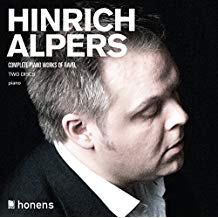 Ravel – The Complete Piano Works (2 CDs, honens)
Equally in the German piano tradition as well as an enthusiastic performer of French music, Hinrich Alpers didn't hesitate to tackle the complete piano works bei Maurice Ravel. Ravel's flamboyant personality and dandyism have fascinated contemporaries and today's audiences alike. At the same time he made light of his own virtuosic music – as if everything had just so happened…
Hinrich Alpers hast been thrilled by Ravel's world of sounds since his childhood, when a French teacher introduced him to the world of piano. At the same time, Ravels eminence as a piano composer can hardly be overrated. Hence, Hinrich Alpers has added a few Hommages to this much praised album, "Postcards to Ravel", two of which are from Ravel's time and four have been specially composed.

Schumann – Piano Works
Faschingsschwank aus Wien
Kinderszenen
Sonata in f sharp minor
Hinrich Alpers' debut CD features three works by Schumann which are entirely different from one another. The German Romantic composer created a number of works seemingly governed by a bipolar aesthetic, abruptly ranging from frantic impulsions to mournful moods. His Kinderszenen, thirteen miniatures explicitely conceived not as music for children but "from a grown-up for grown-ups", are framed by two of his most substantial and epic works: the Faschingsschwank aus Wien, a picturesque cycle of five humorous movements about Viennese Carnival and the f sharp minor Sonata, a work full of youthful enthusiasm.
This CD was editor's pick of January 2009 on "CDbaby.com": "This classical pianist seems to be winning awards, high praise, honorable mentions, and endorsements everywhere he goes. But listening to his latest album of Schumann piano pieces, it becomes clear that the hype and concert hall hoopla is backed up by a lifetime of study, dedication, and, most importantly, some serious passion. Effortlessly dexterous and expressive, Alpers attacks these works with equal parts confidence and reverence. Thankfully, the recording quality is similarly brilliant, capturing all the round warmth and resonance of his piano without sacrificing anything in crispness or clarity. It is tough to go wrong with a great recording of a great player performing a great piece by a great composer!"
Order online on CD Baby or on honens.com or on amazon.com
"Geliebter Lügner" ["Beloved Liar"], audiobook (german)
"We want to tell you a love story …" The story of a couple that wrote each other touching letters over a span of four decades, that cursed each other only to reconcile passionately. The love letters of George Bernard Shaw, the celebrated author, and the actress Stella Campbell made worldwide success in Jerome Kilty's stage version – now available as audiobook starring Mario Adorf and Iris Berben.
Music: Hinrich Alpers
Performers: Cordula Frick, violin; Sabine Frick, violoncello; Hinrich Alpers, piano